If the content is king, we can say that video content has officially claimed the throne in 2018. Video marketing is more than ever a strategy to consider.
It's no secret, the consumption of videos on the Internet continues to grow year after year. Today, video accounts for 74% of all Internet traffic and Cisco estimates global video traffic will account for 80% of all Internet traffic by 2019.
We made a lot of progress, since only 9.1% of the population had access to the Internet in 2002. A few years later, Youtube allowed us to view and publish video content in one click.
In recent years, online video consumption has increased by 90% according to Bright Vessel – from an average of 46 minutes to 240 hours a day.
Why video content is king now?
It simply means that people are watching videos on the Internet all the time. In fact, more than 500 million hours of video are watched on YouTube every day.
So, if your brand is developing a video marketing strategy, you have the opportunity to engage a significant part of your community. But if you have not started yet, there is no time to lose.
Here are 4 reasons why you need to use video marketing:
1. The attention span of your customers decreases
According to an article published in the New York Times, the human attention capacity fell below 8 seconds in 2016, which is lower than that of a Goldfish.
With the advent of the internet, the supply of information (and distractions!) has exploded: we move from one site to another, from one tab to another. With mobile, it's still worse because it is always at hand and every moment of waiting (alone or with others) becomes an opportunity and an excuse to surf.
According to Krista Neher, a marketing expert, our brains process images about 60,000 times faster than words. With video, the classic saying 'a picture is worth a thousand words' becomes 'a minute of video worth 1.8 million words,' according to Forrester Research.
It is no wonder that we prefer to spend our time online watching videos rather than consuming other types of content. According to a HighQ infographic, Snapchat users watch 10 billion videos a day while Facebook has 500 million users watching videos. Even Twitter, a platform that has built its success on its famous 140 character messages, now sees 82% of its users watch video content.
TL; DR: your customers prefer to watch video content. So, give them videos!
2. Video is more engaging and more easily shared
According to a survey by Hubspot, 79% of consumers said they preferred to watch a video on a product rather than read information. We understand them: the product is staged, the information is integrated into the script, characters use the product.
'Telling stories through video is a very effective way to create excitement, nurture relationships and motivate your audience. When done correctly, stories convey reliable information that evokes emotion and create a memorable experience.' – Lilach Bullock.
When we come across a relevant video, interesting or funny on the Internet, the first reflex is to share it with our friends. This is the key to the success of viral videos like the ALS Ice Bucket Challenge and the hilarious Dollar Shave Club pub.
Marketers recognize the effectiveness of video for marketing: according to 70% of them, videos produce more conversions than any other type of content.
3. New formats and video trends are developing
In recent years, more interactive and immersive video formats have developed: 360 videos, live broadcasting (Facebook Live, Youtube), virtual reality, Instagram Stories.
Of course, these innovations offer new opportunities for companies and brands to engage creatively their audience on social networks. They can differentiate and emerge in an increasingly competitive media environment.
For marketers, the possibilities are endless and it is important to explore these new ways of creating video content.
Rather than blindly adopt all the new trends, evaluate them and focus on those that are relevant to your audience.
4. Marketers will continue to increase their video marketing budgets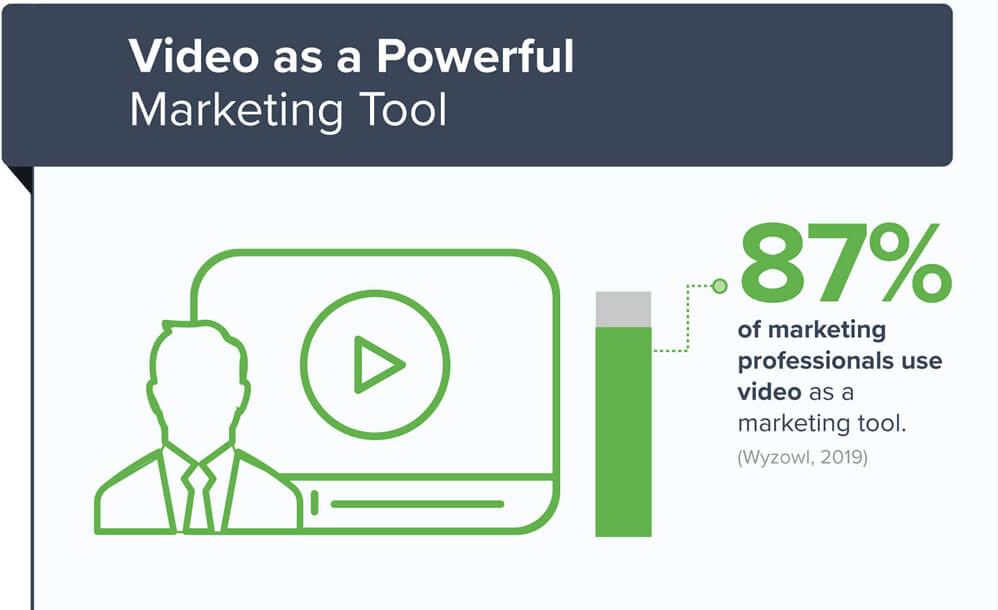 The demand for video increased enormously. In fact, 43% of people want to see more video marketing content.
In order to meet the demand and remain competitive, more and more companies are continuing to increase their video production budgets. In 2016 alone, 63% of marketers had planned to increase their video marketing spend over the next year.
This means that video marketing has proven to be an effective way for businesses to make noise and put forward the value proposition. According to HubSpot, marketers who use video saw increased revenue 49% faster than those who do not use.
Most marketers not only think that video content is more efficient than other content marketing formats, but also 59% agree that it is the one that brings the best ROI.
To conclude on this point, if you are not already investing in video marketing, keep in mind that your competitors are already investing in the subject.
Today more than ever, it's time to invest in a video marketing strategy.
It is certain that all trends and data indicate video marketing is a significant format to improve the visibility of its brand.
Perhaps you should start thinking about how you can create video content for your business in 2019.
Are you looking for Web Design in London? OR Local SEO services in London, Surrey or Reading?
Send me your business information. I provide hands-on internet marketing fulfillment services to boost your website and digital marketing channels productivity.